Standing on the windswept top deck of a ship searching for distant whale blows, or on a blustery headland scanning for porpoise, or even in an uncomfortably hot lecture room whilst I prattle on about my rather obsessive wildlife passions, individuals always come up and ask, "so how did you get into this, are you a marine biologist?" I know that it will be followed by (assuming it hasn't already been preceded by) mutterings about a "dream job" and friendly accusations of "falling on my feet." Because everyone wants a job that that involves whales, dolphins, seabirds, oceans - don't they?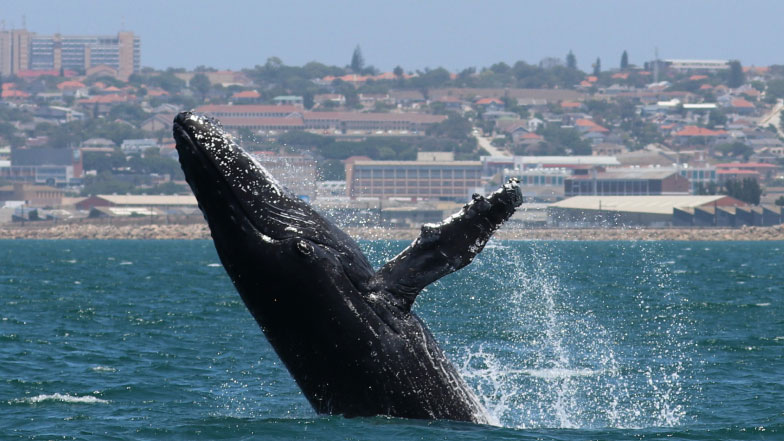 Photo: Humpback whale, Port Elizabeth, South Africa
I do not have a degree in marine biology or even a science degree. Weirdly after a shaky start to the broken ladder that even partially resembled any form of career (does chef, melon picker, forklift driver, restaurant manager, steel worker, chief stoner even come close) I headed off to university as a mature student and despite my love for the natural world, gained qualifications not in natural science but in political science. History and International Politics and an MA in Middle East Studies to be precise: absolutely essential attributes for my next career as owner of a small gardening firm.
So my simple answer is generally:
"No, I am not a marine biologist, I'm just a cetacean freak"
What this means is that I am a self-taught naturalist obsessed by whales, dolphins, porpoises and the habitats that they reside in, as well as the plethora of all life on earth. Sure I work with scientists and have undertaken countless vocational courses linked to marine biology, I also volunteer as a marine mammal citizen scientist and I have had a number of paid contracts with one of Europe's leading whale and dolphin conservation charities but I suspect that I am more of an observer, educator and interpreter.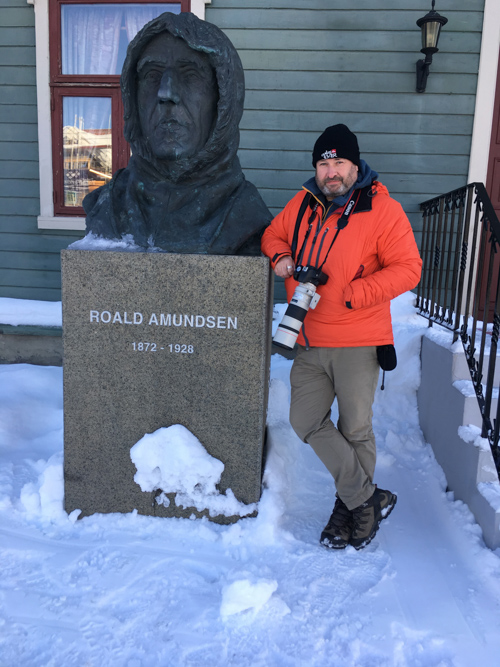 Photo: Andy and bust of Roald Amundsen, Polar Museum, Tromso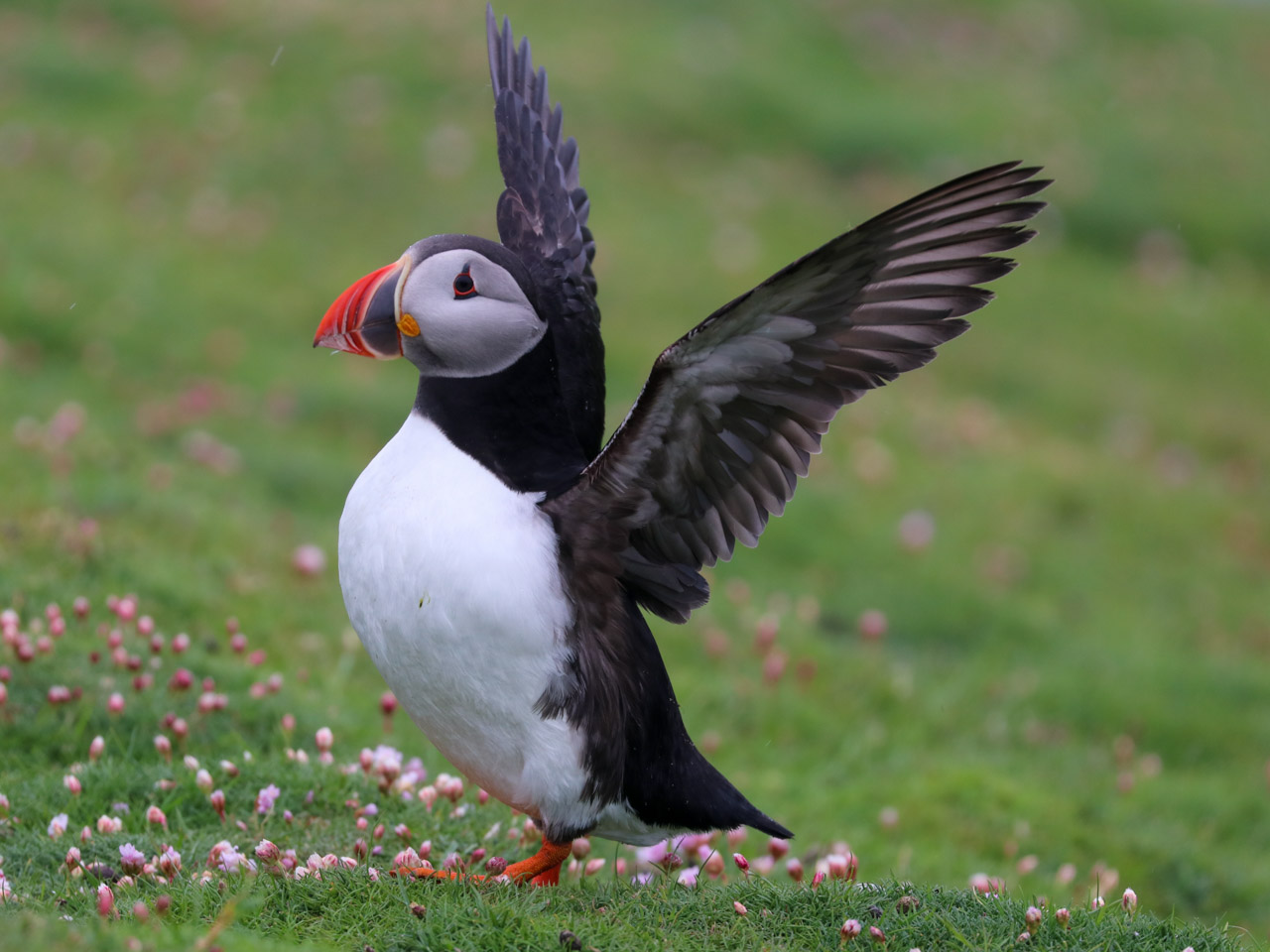 Photo: Atlantic puffin, Fair Isle, Shetland
But why freak? I don't really know. Definitely not in a pejorative sense and certainly not in the vein of Joseph Merrick. Although the nineteenth and early twentieth century Elephant Man style freakshows and their ilk must have stemmed from a yearning to experience the curious and exotic wonders of the world; whether seen through the working class prism of the travelling "freak" and cabinets of wildlife curiosities or the extravagant taxidermied and embalmed animals displayed at grand events like London's Great Exhibition of 1851. Certainly, whales and other so-called wonders of the deep have played their role in this yearning to understand and marvel at the natural world - as well as to subjugate it. Even the term cetacean derives from the ancient Greek word for sea monster: ketos. Whales and dolphins have long been a source of wonder for us who reside on land. From strandings on our shores (historically and today) to the first whale in captivity in the UK a sad tale of a very short lived beluga shown at the Westminster Royal Aquarium in 1871, people have flocked to see these animals. The travelling circus show and captive parks still take place in some parts of the world but watching these animals in the wild is now an industry worth 2 billion dollars globally and our relationship has largely shifted during the twentieth century from one of fear and commodification to adoration and conservation.
I spend as much time as possible on the ocean or by the coast but any natural environment will do to stimulate my wandering mind and when not out on the Seven Seas I am blessed to call rural Devon, in the UK, my home . The way that humans interact with nature fascinates, as well as frightens me. The historical, cultural and political narratives that interpret and also construct those relationships reach beyond human memory and reiterate the fact that, no matter how much the contemporary world may try, we cannot extricate ourselves from our place within the natural world and our well-being and our existence depends upon it. We do not live in a vacuum.
Photo: Looking up Loch Broom from onboard, MV Loch Seaforth
So if you are a whale nerd, then I welcome you, and you will find plenty of ocean related blogs on my site. But equally if you have an interest in terrestrial wildlife then this site is for you too. I make no apologies for blogging about anything from musings about my bird table outside my window to scenes from the African Savannah. If you have a yearning for a better relationship with the biosphere that we all inhabit, whether through conservation and environmental activism or animal rights, then hopefully you will find some discussion of it here. I am lucky enough to travel widely therefore there will be an element of travel writing from time to time. Like so many of us my life has been defined by a constant wrangle to tame the mind and contemplation and exposure to natural detail have been long term tools in the kit. Over recent years meditation practice has played a prominent part in this journey and I've found it to sit well with and enhance my sensibility towards the wild so it is likely that some blogs will touch on the mind as well. And I shall continue to explore those ongoing stories and adventures that the creatures of this crazy and wonderful planet create throughout their lives, as well as that everyday pleasure of just simply stopping and watching and appreciating wildlife.

As you can see, I am definitely a bit of a magpie, as my disjointed life up to now probably attests to. So hopefully something shiny and sparkling might catch your eye on my site and spark your interest too. Thank you for sparing the time to have a look.